"My eyelash enhancer has given me a thicker lash line making my eyes appear brighter and more youthful.  I am delighted with the results of my treatment"
Cathy Duke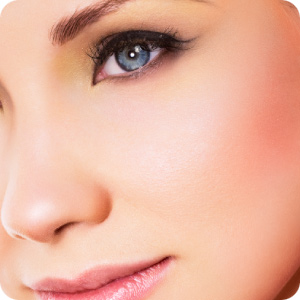 Our eyes are one of our most expressive features, one which we add definition to daily. Applying eyeliner and removing it can be quite awkward at times, particularly when we are in a rush! Keeping it in place can also be difficult and we can find after an hour at the gym it has disappeared or smudged!  As we get older our lash line can become sparse and the iris can lose its colour density.
Adorn's fantastic range of treatments will give you the convenience of a professionally applied makeup look each and every day.  SPMU eyelash enhancers and eyeliners will give you a thicker lash line and beautifully define your eyes. We have a range of styles and colours to compliment your eye colour and shape.  Your semi permanent makeup will stay perfectly in place throughout the day, whether you are skiing down a mountain or relaxing at the beach!
Our Semi Permanent Eyeliners & Enhancers are the perfect solution for the following:
For a deeper more defined look
When eyelashes are too fair
When eyelashes are scant or lacking
For women who's eyes are inclined to water in the wind, cold, light, etc
Gym lovers
For people with poor eyesight
View all of our treatments HERE.
Our other areas of expertise are Eyebrows and Lips. View the full list of semi permanent makeup treatments that we offer, here at Adorn, by clicking HERE.